Vruće cure izazivaju jedne druge pred kamerama
Naši modeli prave su kokete! Dođite na naš video chat i gledajte ih kako flertaju s muškarcima, nadražuju ih sisama i maze se ispred web kamere!
Web kamere za seks uživo i kamere za seks chat uživo. Ako ste odvažniji, kliknite na
Prijava modela
i počnite prenositi svoj šou uživo pomoću web kamere!
'Queen Of Queens' Latinske Amerike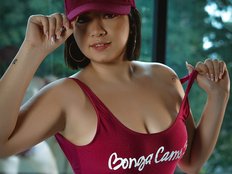 AlanaRouse
Gledajte vruće cure na koje se diže kurac kako se skidaju pred kamerama uživo
Nije neka tajna da većina djevojaka voli flert. A nema boljega načina za navesti muškarca da mu se digne kurac i pokrene ga u akciju nego izazivati nevolju striptizom do kraja. Naši vrući ženski modeli u svakom slučaju to misle! Gledajte ih kako izazivaju muškarce sa svojim vrućim tijelima dok flertuju pred našim seks kamerama. Te su djevojke pravi stručnjaci kada je u pitanju flert i znaju izazvati muškarce do ludila. Profesionalne striptizete nisu ni do koljena tim curama! Gledati njihov striptiz je iskustvo kakvoga nema. Divite se njihovoj otmjenosti i fleksibilnosti dok polako plešu i skidaju se prateći ritam. Teško je točno odrediti što to njihove predstave čini tako prokleto nevjerojatnima. Možda je u pitanju način na koji izazivaju i flertuju sa svojom publikom na našem seks chatu uživo? Ili je samo to da je neodoljivo promatrati te uglavnom sramežljive i pristojne djevojke kako se bore same sa sobom da bi pružile dobru predstavu? Bilo kako bilo, promatrati ih kako plešu i izazivaju tijekom njihovih seks predstava uživo je nevjerojatno iskustvo. Te cure sa svojim vrućim tijelima rado dižu svoj flert na višu razinu izazivajući sve muškarce koji gledaju njihove besplatne seks predstave pred našim kamerama uživo. Gledajte kako se te sramežljive djevojke diraju i prstenjače svoje rupe pred svojim web kamerama!
Ispod njihovih sramežljivih i opreznih slika za javnost skriva se neopisivo snažna potreba za flertom sa svim napetim muškarcima koji ih smatraju imalo privlačnima. Te kurve koje čeznu za pozornošću mogu se ponašati kao dame i biti slatke u javnosti, no iza zatvorenih skrivaju se pravi manijaci koji samo žele izazivati kurac i seks! Flert je kao disanje tim djevojkama! One stvarno ne mogu provesti niti jednoga dana bez da pokrenu chat uživo s napetim muškarcem ili ženom u našim chat sobama uživo. Gledajte ih kako se skidaju i igraju sa sobom dok se druže sa svojim chat partnerima pred našim besplatnim seks kamerama uživo. A zabava tu ne staje! Za razliku od mnogih drugih porno stranica, mi Vam dajemo priliku družiti se sa svim našim modelima u privatnim chat sobama i tražiti ih da izvedu privatni predstavu uživo samo za Vas. Pridružite se BongaCams i uživajte u flertu i seksu preko web kamera s tisućama seksi ženskih modela iz svih dijelova svijeta! Nemojte biti sramežljivi i pridružite se našim chat sobama za najuzbudljiviju XXX avanturu Vašega života!