Nastupi cura uživo pred webkamerama s OhMiBod vibratorima
Uživajte u euforičnoj glazbi podraživanja! Posebna seks igračka zvana OhMiBod učinit će da Vaša cura stenje i migolji se u ekstazi svaki put kada ju podražite!
Web kamere za seks uživo i kamere za seks chat uživo. Ako ste odvažniji, kliknite na
Prijava modela
i počnite prenositi svoj šou uživo pomoću web kamere!
'Queen Of Queens' Latinske Amerike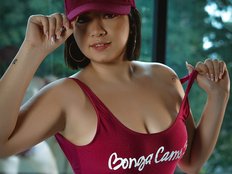 AlanaRouse
Vibratori na daljinsko upravljanje čine cure luđima kada su podražene
BongaCams je dom tisuća seksi modela iz svih krajeva svijeta! I pogodite što? Skoro svaki od njih voli perverzne igračke! Stoga ako trebate neke ideje kako primamiti Vašeg omiljenog modela, ne tražite dalje jer postoji mega popularna seks igračka zvana OhMiBod! Ovo pomagalo za odrasle traje već neko vrijeme i brzo dobiva na popularnosti među našim perverznim webcam modelima. I je li zaista čudo što ga djevojke toliko vole? OhMiBod im omogućuje da uživaju u tokenima na posve nov način. Kad god im neki chat član da tokene, ta stvar počne ludo vibrirati dovodeći djevojke u divan svijet erotskih užitaka. Kao što vjerojatno možete pretpostaviti, to je dobra priprema za stvarno vlažan razgovor uživo. Dobivanje pažnje Vaše omiljene cam djevojke postaje izuzetno lako! Sa sigurnošću možemo reći da je slatka zajednica OhMiBoda i velikodušnih podraživanja garancija da će Vaša voljena cam djevojka uživati u chatovima uživo kao nikada do sad.
Razmišljajte o tome na ovaj način: Nije velika tajna da svi modeli uživo vole primati poklone, stoga zamislite njihovu iznenađenost kada uz taj poklon slijedi i nevjerojatan orgazam! Naravno, podražavajući modela koji koristi OhMiBod pruža jedno apsolutno nevjerojatno erotsko iskustvo uživo! Nema sumnje da ćete privući svu pažnju modela puštajući da ide svojim putem primajući onoliko podražaja koliko može kako bi uživala u svim zadovoljstvima koje pruža ova nevjerojatna seks igračka. Nije li ovo predivan način za učiniti webcam izvedbe još boljima?
Međutim, imajte na umu ako je model u besplatnom chatu, onda postoje šanse da niste jedini koji je potiče. Ako želite biti jedina osoba zadužena za njezin Ohmibod, bolje da požurite i pozovete curu u privatni chat, gdje nećete morati dijeliti njezinu pažnju ni s kim. Tko zna? Možda postanete njezin najdraži chat član do sad! Stoga, nemojte se sramiti i istražite ovu nevjerojatnu ponudu pozivanja modela koji Vam se sviđa u privatni chat i podraživanja do mile volje. Vlažna kombinacija svih užitaka korištenja OhMiBoda i Vaša neodoljiva velikodušnost je garancija ostavljanja Vaše najdraže webcam cure u stenjajućoj, vrpoljećoj zbrci!