Seksi žene puše ogromne kurce ispred svojih web kamera
Upoznajte cure koje su istinske obožavateljice pušenja kite! Tisuće njih spremne su vam ugoditi u našem video chatu za odrasle!
Web kamere za seks uživo i kamere za seks chat uživo. Ako ste odvažniji, kliknite na
Prijava modela
i počnite prenositi svoj šou uživo pomoću web kamere!
'Queen Of Queens' Latinske Amerike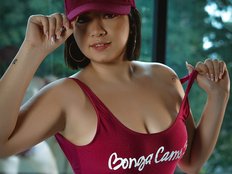 AlanaRouse
Gledajte vruće webcam modele dok puše svojim dečkima uživo pred kamerama!
Za sve Vas muškarce koji uživate u prizoru vrućih žena na koljenima dok puše što većem broju muškaraca osmislili smo ovu kategoriju, posvećenu seksi ženama koje vole pušenje kurca. Pretražite ovu kategoriju da biste vidjeli tisuće žena svih boja, dobi i podrijetla dok se spuštaju na koljena i puše kurac netom upoznatim likovima. Uživajte u prizoru na plavuše koje puše i ližu kurac kao sladoled u kornetu. Gledajte sisate brinete dok usavršavaju svoje vještine fellatija dok se igraju sa svojim vlažnim pičkama. Divite se ustrajnosti slatkih Azijatkinja koje vole satima sisati svoj omiljeni dildo i gurati ga duboko u grlo. Bilo da tražite slatke studentice koje puše svojim dečkima ispred web kamera ili droljaste BBW dok puše velikom broju muškaraca na seks tulumu, došli ste na pravo mjesto! Ovdje možete pronaći tisuće seksi webcam djevojaka koje puše kurac i iskazuju svoje sposobnosti dubokog grla uživo pred svojim seks kamerama! Gledajte njihove seksi usne dok puše ogromne kite sve dok ne budu cijele oblivene spermom. Naši vrući modeli stvarno vole pušiti kurac i ne boje se to pokazati. Slušajte ove seksi cure dok stenju i uzdišu pušeći kurac dok čekaju da im dečki svrše duboko u grlo.
Naše seksi cam cure živi su dokaz da ne postoji ništa seksepilnije od prizora vruće cure koja kleči i puši kurac poput profesionalke. Ove cure razvile su i usavršile nevjerojatne vještine pušenja kurca zahvaljujući godinama i godinama naporne vježbe. Neki od naših seksi webcam modela ponekad ustima vole izvoditi nevjerojatne seksualne trikove, poput pušenja dvojici istovremeno ili guranja u grlo ogromnih crnih kita bez gušenja. Ove cure vrlo su ponosne na svoje nevjerojatne vještine pušenja kurca i vole ih pokazivati uživo ispred svojih seks kamera. Vole sjediti vrlo blizu web kamerama da svi njihovi chat prijatelji mogu izbliza vidjeti njihove snimke dok sline kao nikad dok vježbaju lizanje dolje, sišući i gurajući duboko u grlo najveći i najdeblji dildo koji su uspjele pronaći uživo pred seks kamerama.
Sve što trebate učiniti da biste upoznali ove ljepotice jest da se pridružite našem erotskom chatu uživo!
Pridružite se BongaCams zabavi i uživajte u nevjerojatnom webcam seksu s tisućama seksi cura iz cijelog svijeta!